Account activation
There are two ways for a payee to activate their Hyperwallet payment accounts:
Activation via email
Activation via Pay Portal
Activation via Email
During the approval process to lift a package(s), you will receive an activation email from Hyperwallet. Emails are sent to the payment contact associated with your lifter's account.
1. Click the "Activate Account" button from the email.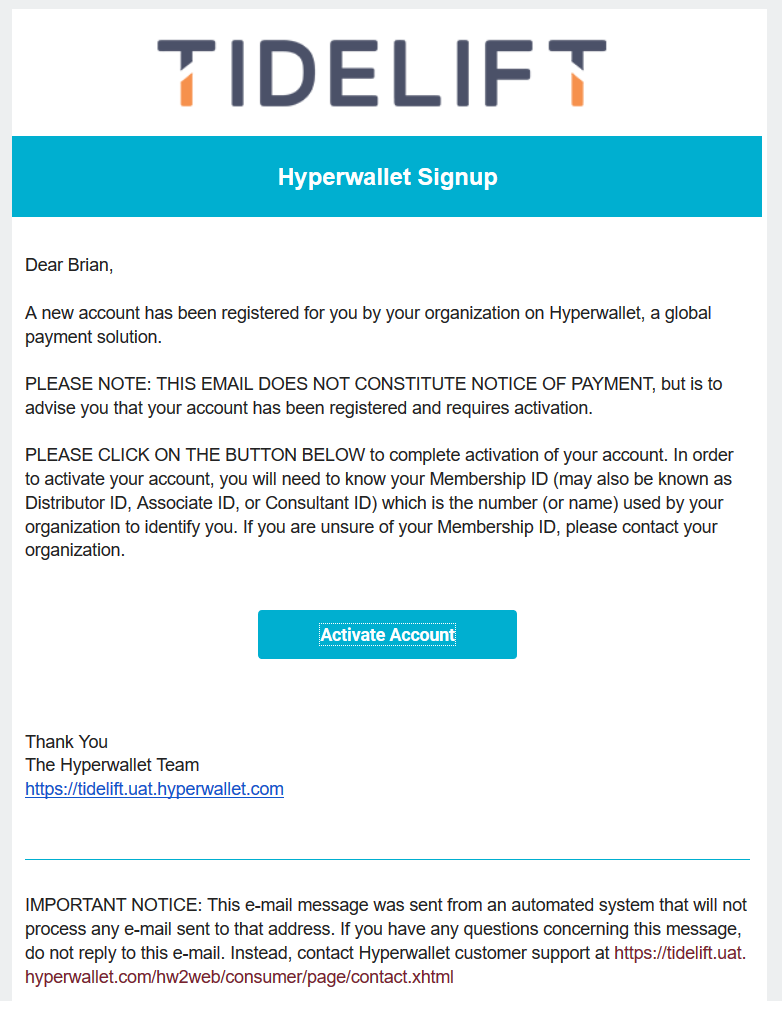 2. After clicking the "Activate Account" button you will be redirected to the Hyperwallet Pay Portal via a unique URL. From there, you have two choices for verifying your account:
Your Phone Number. This will be the number you provided Tidelift during the application process
Your Payee ID. The username on your Open Source profile, as submitted via your signed lifter agreement
3. From there, choose whether you will receive payments as an Individual (e.g. Individual, Sole Proprietor, or Single-Member LLC) or a Business (e.g. Corporation, Partnership, or Limited Liability Company).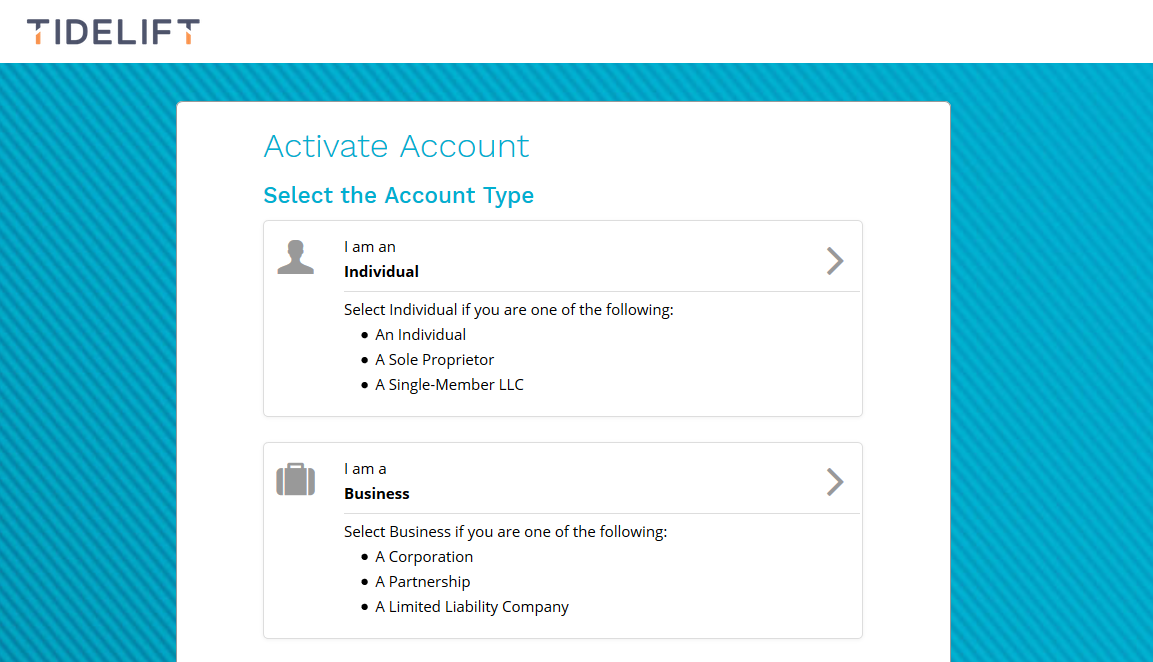 4. Individuals: If you choose Individual, Hyperwallet prompt you to fill out some personal information (name, gender, date of birth, and social security number), home address, and contact phone number(s). For your name, please note that Hyperwallet requires it be written in given name, family name order.
Businesses: If you choose Business, Hyperwallet will prompt you to fill out some about your business entity (business name, type), registration details (registration number, registration location), company address, and contact phone number(s).
*Note: If you need to convert an Individual Account into a Business Account (or vice versa, convert a Business Account into an Individual Account), please contact us at lift@tidelift.com. We will need to close your former account and create a new account, which means (i) submitting new tax documentation, (ii) re-verifying your identity, and (iii) connecting your bank account for withdrawing your funds.
5. Next, you will be prompted to set a password* (min of six characters), select two unique security questions and answers, and agree to the terms and conditions of the service to complete the activation process. These security questions are used by customer support to verify the identity of the caller as well as reset a lifter's password when using the Forgot Password feature
*Note: Multi-factor authentication is now required.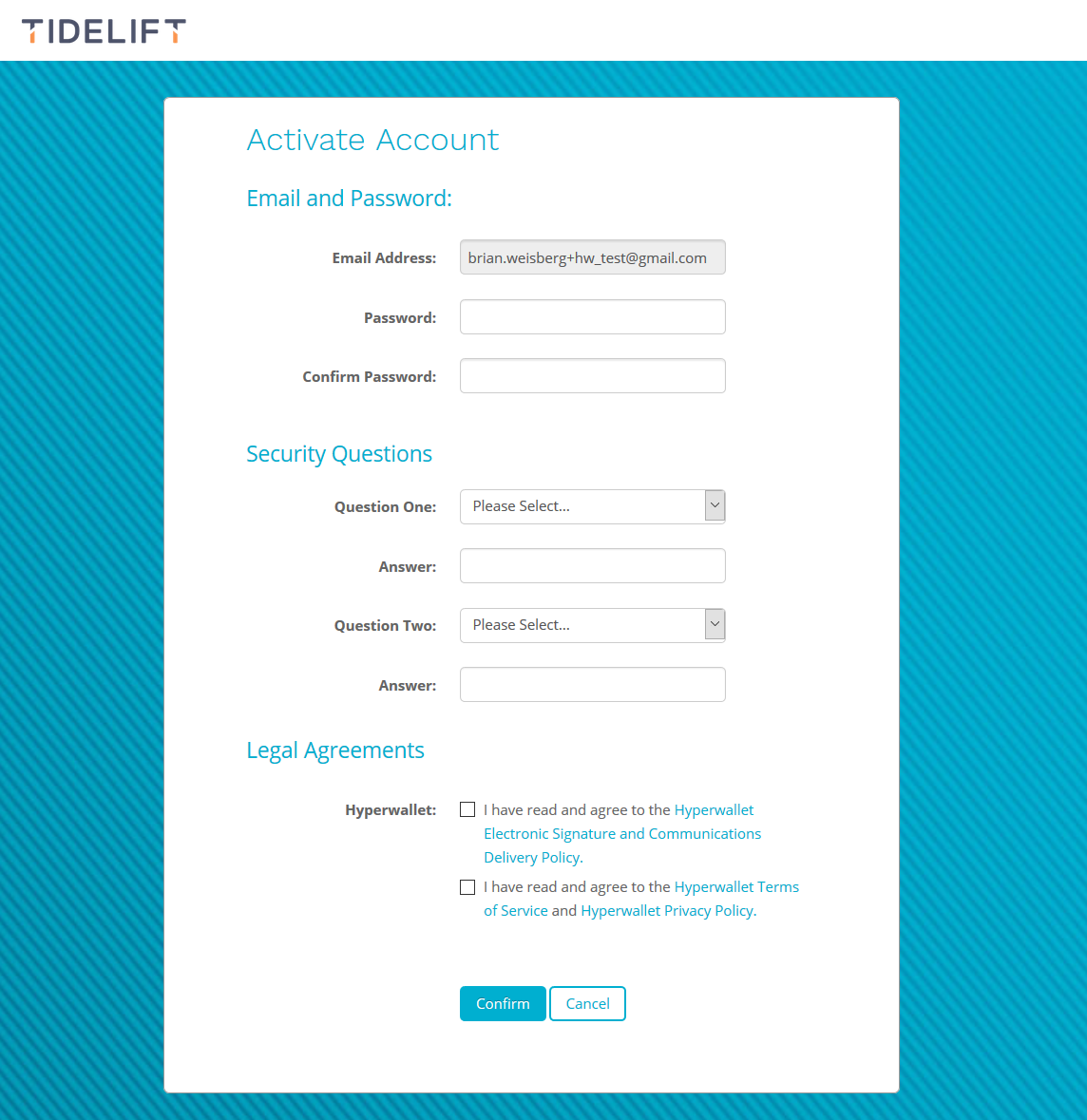 Activation via Pay Portal
If you missed or accidentally deleted the activation email, don't fret, you can initiate the activation process by navigating directly to the Hyperwallet Pay Portal. Select either "email" or "Payee ID" from the dropdown which will initiate an activation email and follow steps 1-3 above.
If you don't receive an activation email, it may be because there are no funds in your account. Please contact Support if you believe there may be an issue.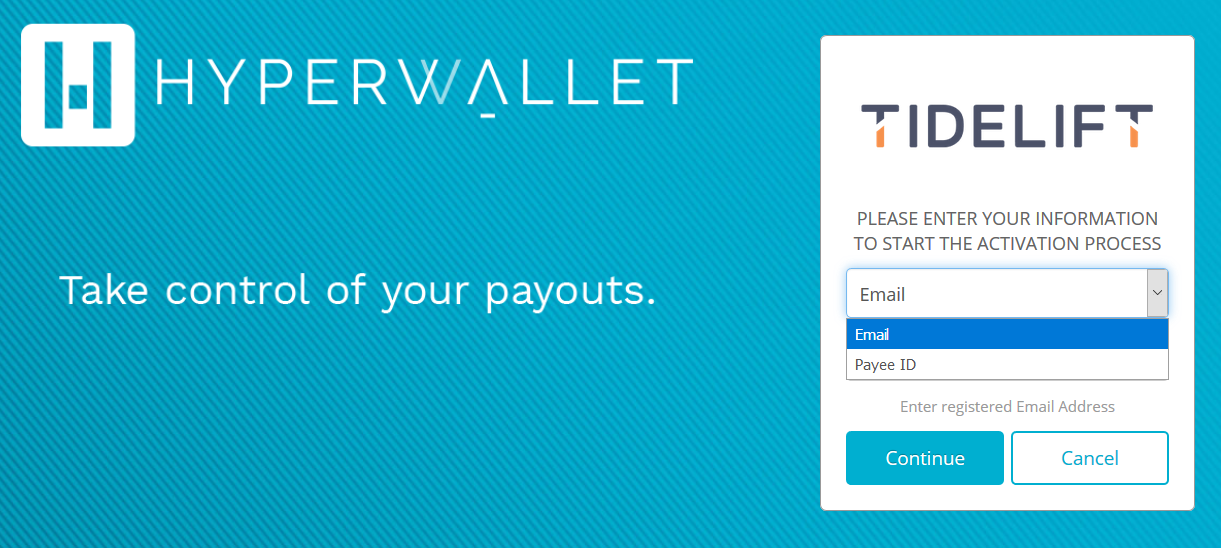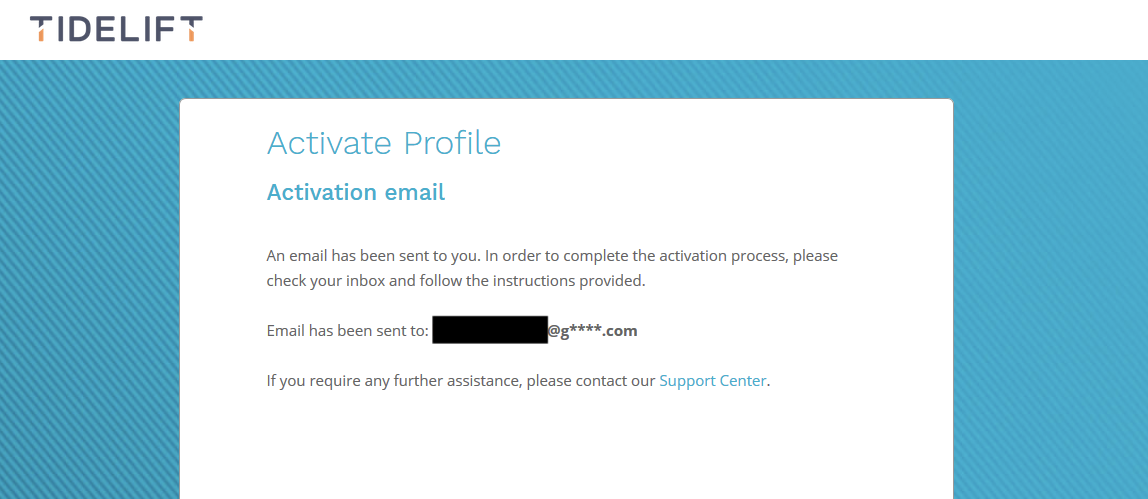 Exceeded Activation Attempts
The system includes a security feature that tracks the number of failed verification attempts. Once the allotted number of attempts has been exceeded, the account will automatically get locked and the payee will be required to contact customer support.
---
Taxpayer Classification and Tax Docs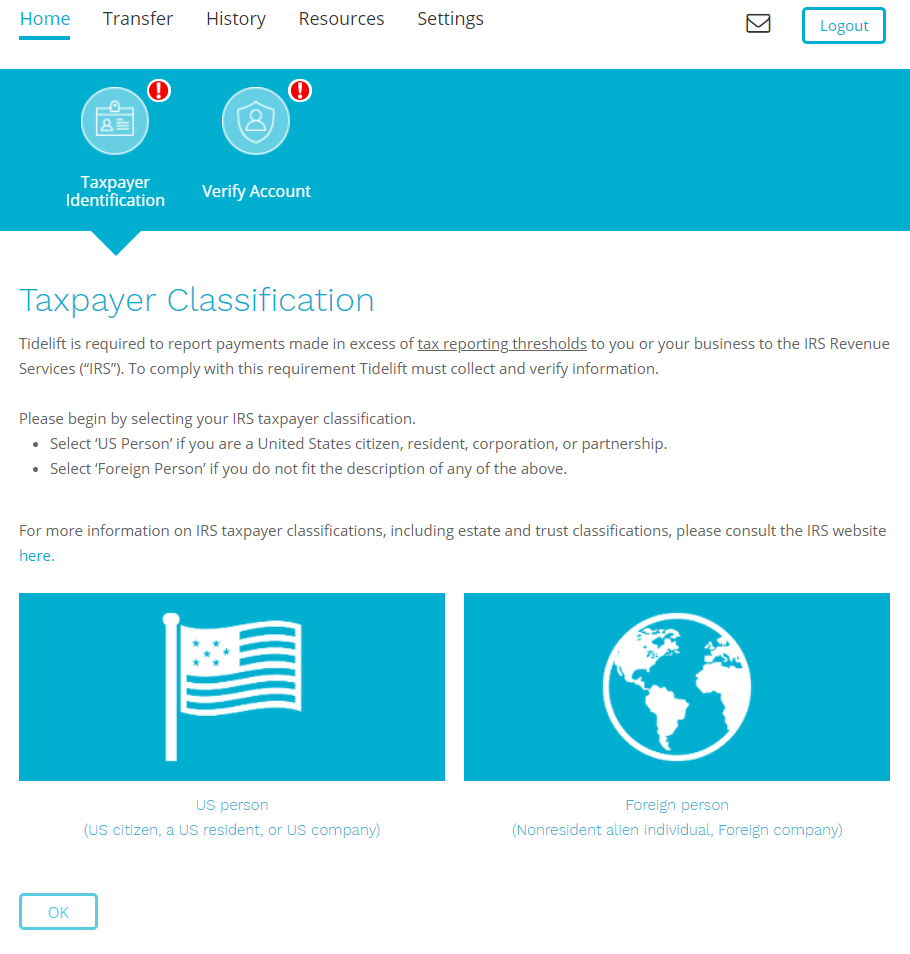 Next, you need to complete the Taxpayer Classification. If you have any questions about the tax classification process, navigate over to our Tax Docs for Lifters. There are two options:
US Person - if you plan to receive payments as a US person or entity
Foreign Person - if you plan to receive payments as a non-US person or entity
US Person
Agree to the eCommunications Disclosure and complete the online Substitute Form W-9. This replaced the need to submit a formal W-9 and is verified immediately.
Foreign Person
Lifters not registered in the US need to download, complete, and upload either an 8-BEN (individuals) or an 8-BEN-E (entities). The verification process usually takes 24-48 hours.
Before submitting: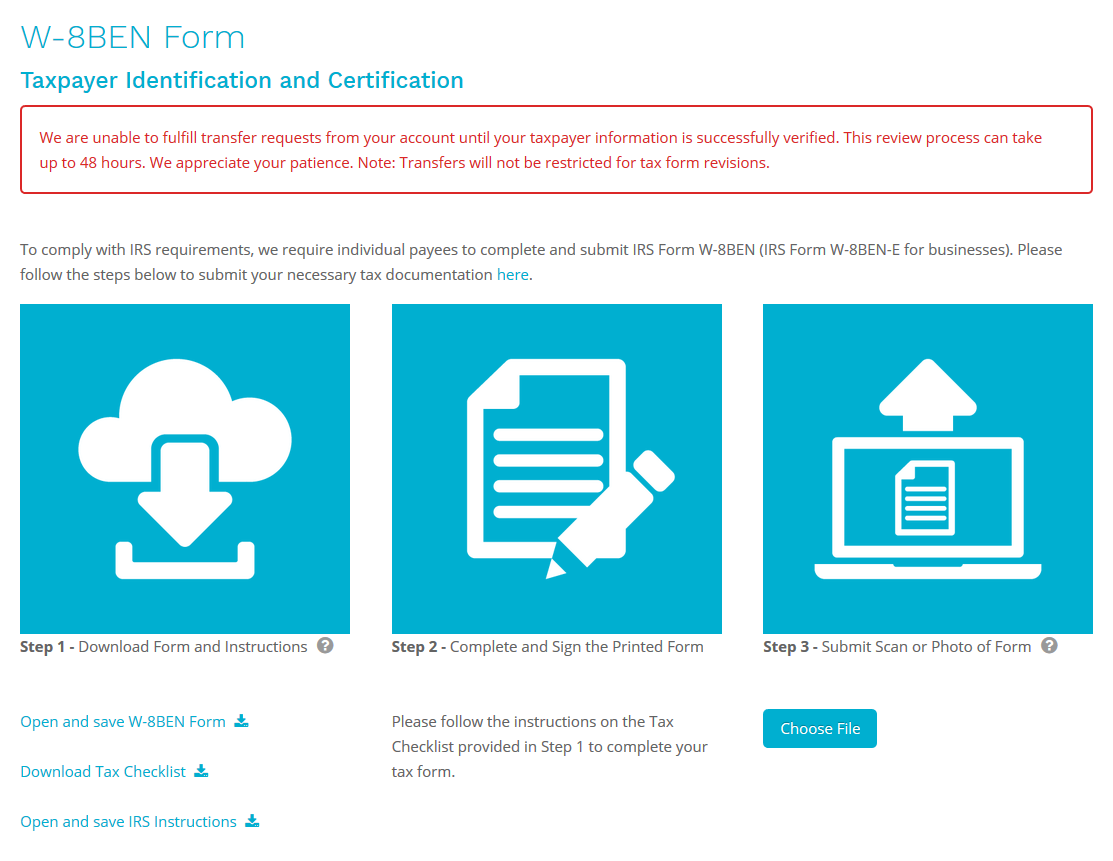 The 8-BEN-E is a relatively new form (and long). Fortunately, Hyperwallet created "Tax Checklist" to make the process less daunting. Unless you are looking to receive funds as a Foreign Financial Institution, it's relatively straightforward.
After submitting:
---
Identity Verification
As a payer of global payments, TIdelift (and Hyperwallet, our payments partner) comply with a variety of multinational laws. Most importantly among these are Anti-Money Laundering and Counter-Terrorist Financing (AML/CFT) laws. As part of this compliance, in certain circumstances, we may require additional information from you to validate and verify your identity.
During identity verification, you will not be able to withdraw your funds using your selected transfer method until this process is completed.
1. In certain countries, Hyperwallet is able to verify your identity electronically with the information you have already provided. If you are not in one of those countries, additional steps will be needed.
If more information is needed, you will need to continue.
2. Click "Verify Now" to begin the Account Verification process.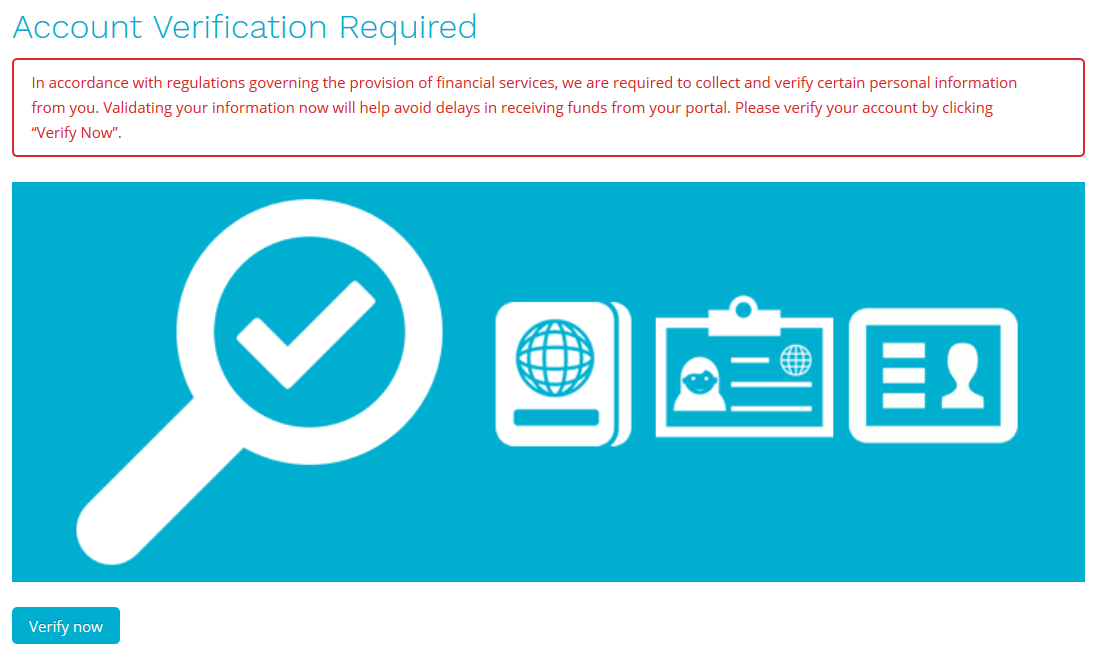 3. Fill out the next two forms:
Complete the personal information
Enter your physical address
Note: it asks for your social security number, but you can leave this blank if you do not have one.
4. Select which type of ID you would like to use to verify your identity, upload an image of the document, and submit. (See FAQ at end for further guidance on acceptable documentation for identity verification.)
Important notes regarding identity verifications:
All identification documentation must match the personal information on the account
Supplied documentation cannot be expired
Identity documentation should be a full color image with all for corners visible
Address documentation must not be older than three-months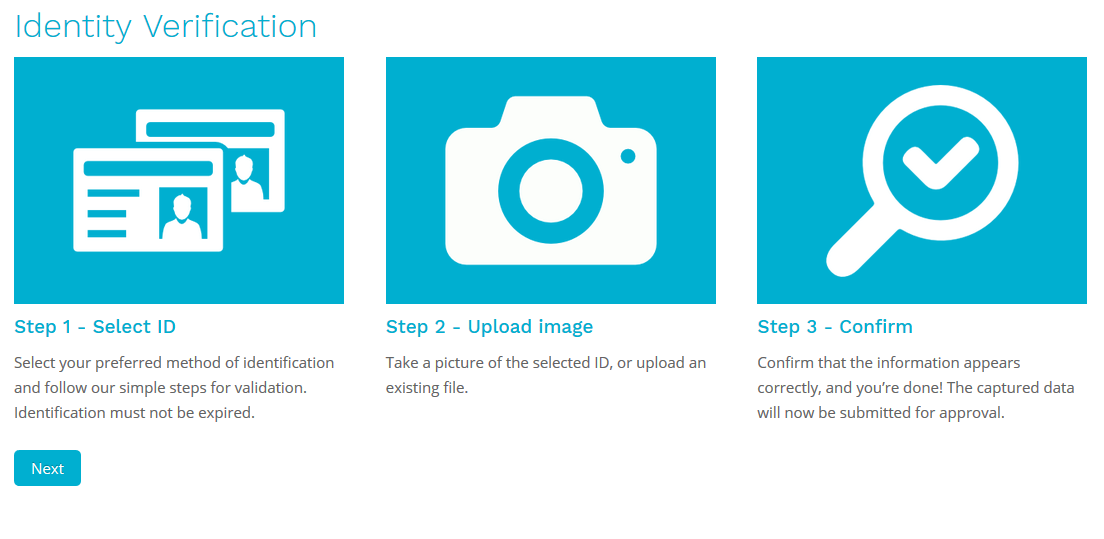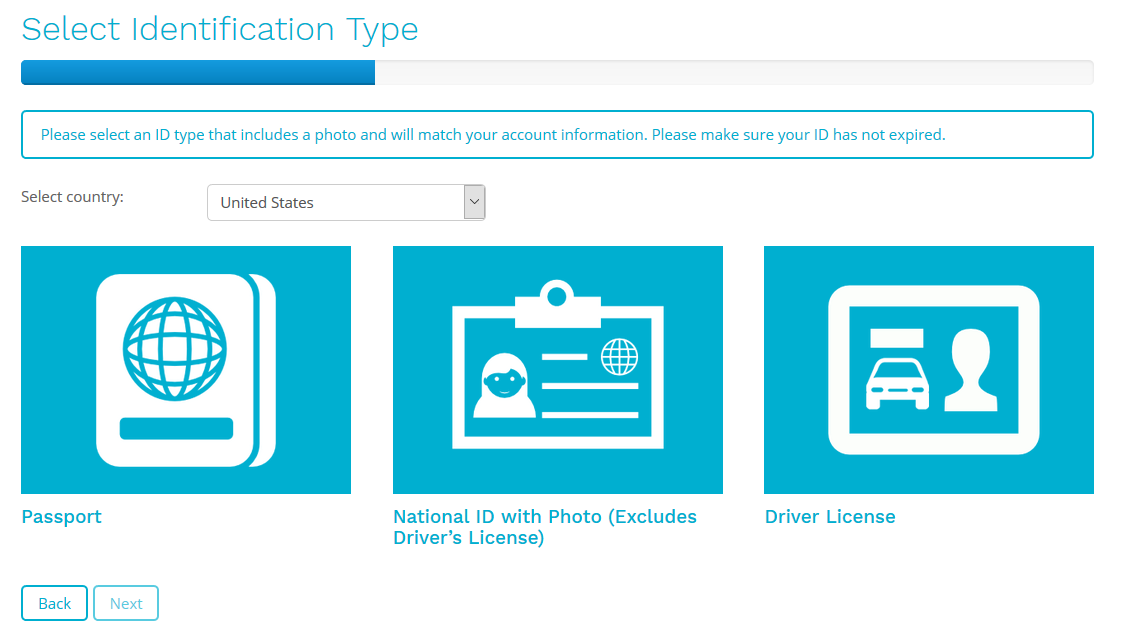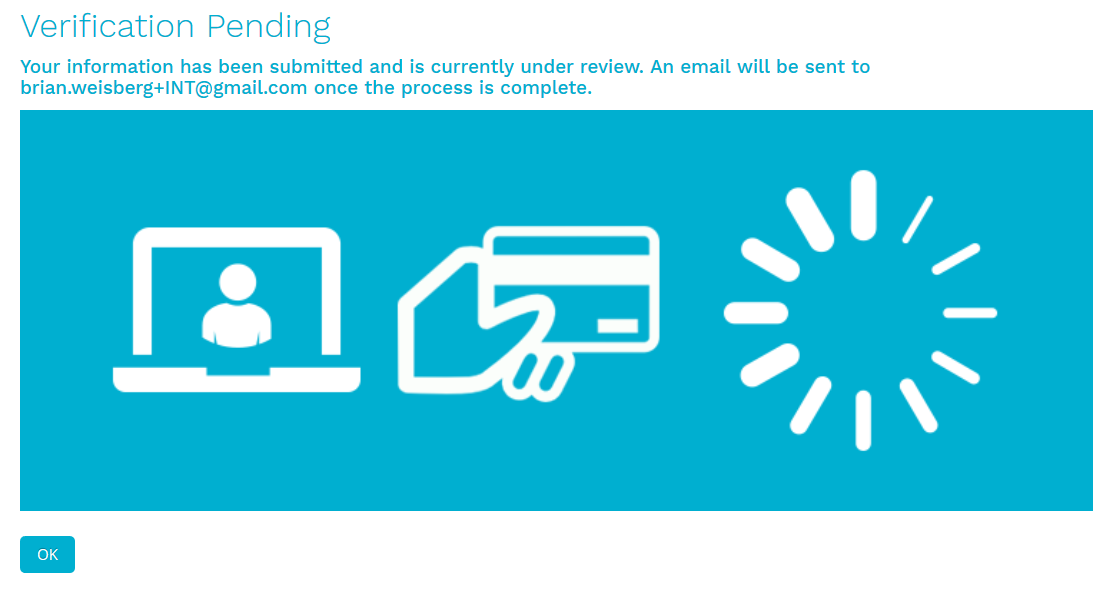 ---
Adding a Bank Account
Hyperwallet currently supports a variety of payment options:
Direct bank transfers (limited availability)
Wire transfers
PayPal deposits
Venmo deposits (US only)
To begin the process, click the "Add New Transfer Method" button and select your country and preferred currency from the dropdown options. In many cases you will have the option to select either your local currency or USD (but not all cases). At this point you will have the option to connect (i) a bank account or (ii) your PayPal account.
As of October 2022, email addresses for PayPal withdraws do not need to match your Hyperwallet email.

Once you have configured your payment account(s), Hyperwallet offers a variety of transfer options such as auto-transfers, splitting funds between bank accounts, etc.
For lifters looking to split payments with co-maintainers, partners, and other contributors, you can do so by adding more than one bank account. Please note however, the tax and identity verification process applies to the account owner who signed the Lifter Agreement with Tidelift. By splitting payments, you assume the responsibility to comply with local and national laws.
If you run into any issues or don't see your country and/or currency listed, feel free to contact Support.

---
FAQ
How should I sign my tax forms?
When signing your tax forms, it is best to use a document management application such as DocuSign, HelloSign, etc. to sign your form. Occasionally, the reviewers may push back if you don't. If you do not have access to one of these applications, you may send your completed form to us and we can send it back to you to sign with PandaDoc.
How long does it take to verify my documents?
If everything is in order, you should receive confirmation of your verification within two business days. If further information or supporting documentation is needed, you will receive an email requesting any additional information and the process may take longer.
What information needs to be verified?
For identity documents:
Name (first and last)
Date of birth
Validity (expiration date)
For proof of address documents (certain countries only):
Name (first and last)
Address - must be current (dates in the last 90 days)
What type of documents are acceptable?
For ID documents:
Passport
Drivers license
National ID
Proof of business:
Business registration
Operating agreement
Incorporation documents
Recent annual filing
For proof of address:
Home utility bill
Bank statement
Credit card statement
Property tax assessment
Income tax assessment
Official government letter
Can I use a nickname or alternative name?
No, the name on your profile must match your documents, be your legal given name (if you are getting paid as an individual), and match what you used on your Lifter Agreement.
What date format should I use when providing my date of birth?
MM/DD/YYYY
What if I have submitted the required documents, but bank transfers are still not working?
If you have already submitted the required documents, please allow time for Hyperwallet to review them. It may be possible that the documents are filled out incorrectly or missing information. They will be in contact if additional information is required.
What can I do if it says that the file size(s) are too large when uploading documents?
If you are trying to upload a photo of a required document and it is too large, try saving it either as a .PNG or .JPEG to reduce the file size. File sizes should be under 4MB.
My passport is expired. Can I still submit that on the Pay Portal?
No, only valid and current government-issued IDs should be submitted. Any expired document submitted will be rejected.
Are photocopies of the required documents acceptable?
No, original documents must be scanned and uploaded.
Does the address on the document have to be the same as my Pay Portal profile?
Yes, the address on your Pay Portal (which you can check under Settings>Profile) needs to be exactly the same on the proof of address document you have provided. If you are unable to update the address on the Pay Portal, please contact Tidelift at lift@tidelift.com.